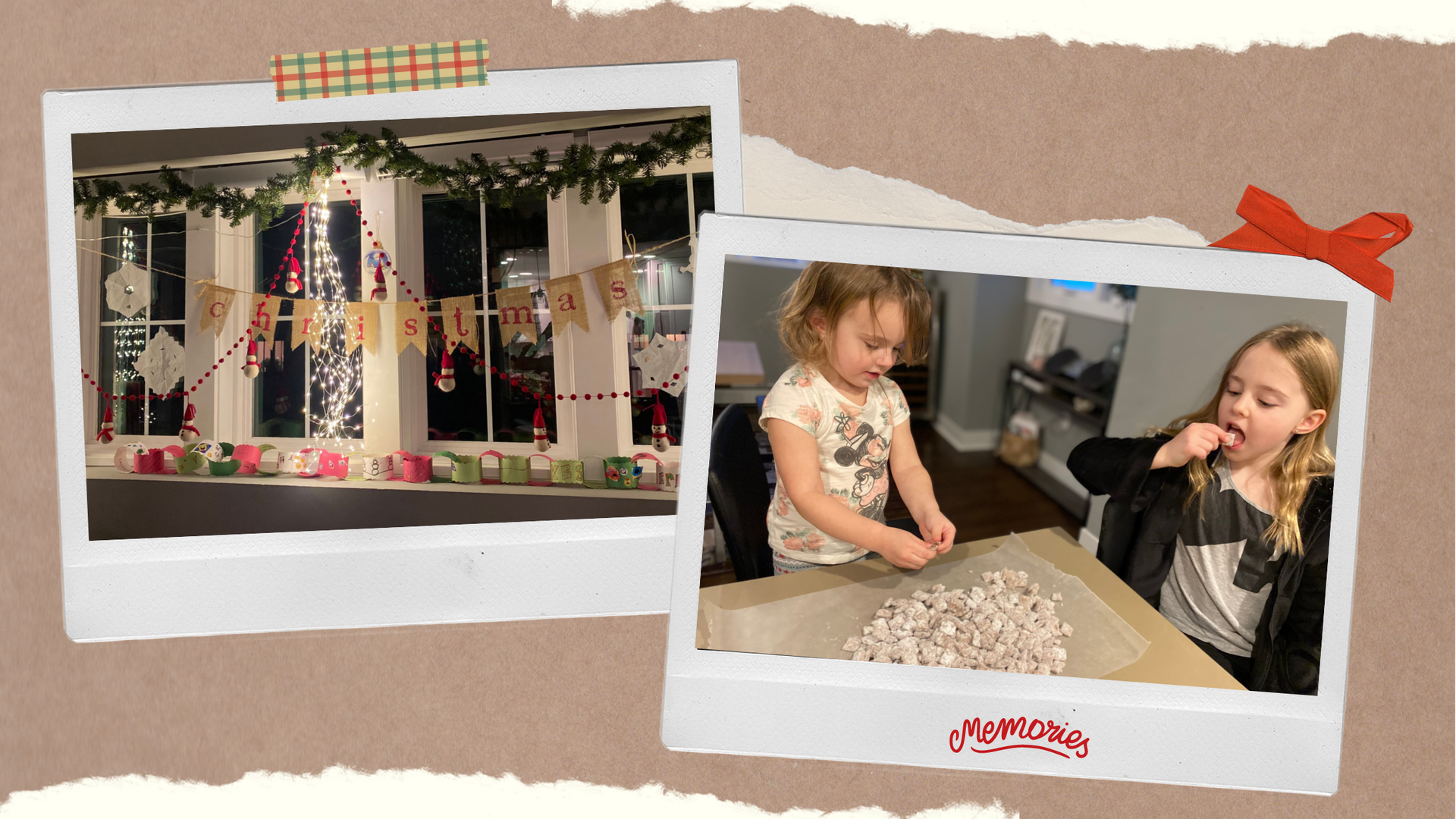 Stop and Smell the Cookies This Holiday Season
If you were to ask me to recall some of my favorite childhood holiday moments, the material things I received would not be the first thing that comes to mind. Instead, I would be flooded with memories of connection, traditions and sheer joy from being with the ones I hold closest to my heart. I can distinctly remember the smell of the powdered sugar from the homemade puppy chow (as we call it in the Midwest) I used to make with my mom. Shaking the little chocolate, peanut butter covered cereal pieces inside a small brown paper bag hoping powdered sugar didn't explode all over the place. Or driving to the Christmas tree farm as a family, selecting the perfect one, then watching my dad curl up under the tree on the crunchy snow trying his hardest to cut it down effortlessly. All while my siblings and I argued over who would pull the wagon back to the car.
A wave of nostalgia still sweeps over me today when I smell a fresh-cut Frazier fir tree or the scent of cinnamon. Even as I write this, I feel a smile spread across my face as I relive those moments. Isn't that what we want for our children? To create meaningful moments that will stay with them forever? It doesn't have to be extravagant; I find the simpler moments centered around family and friends are the ones that stick with us the longest.
As an entrepreneur and mom to three daughters, I know the challenges of trying to do it all. The holiday stress is real! But what if we said "no" more often and simply stopped to "smell the cookies" (pun intended)? 
Let's pass down some of the same traditions from our childhood all while creating new ones. Traditions that don't revolve around material things, but love, conversations and time together. Let's remove the pressure of trying to reach perfectionism this holiday and just enjoy the simple things in life.
Ten Simple Ideas That Will Create Lasting Memories This Holiday:
Create a paper chain advent calendar. My kids love decorating each ring. And they love reading about the special family activities that are revealed as we count down the days till Christmas.
Hand out candy canes to your neighbors with a joyful holiday message.
Make paper snowflakes to hang around the house. Have each person in the family write something they love about the holidays.
Make your favorite holiday dessert together. We still make my mom's puppy chow but have now added our own special sugar cookie recipe to the tradition.
Make homemade ornaments for relatives or friends.
Read your favorite holiday books together or use Make Momentos to be together for storytime no matter the distance.
Have an inside snowball fight with those little felt snowballs.
Decorate a gingerbread house together. Save yourself the headache, buy the premade house.
Blast Christmas music in the car while you drive around town looking at the holiday lights.
Sip hot chocolate with marshmallows while you watch your favorite holiday movie.
Let's choose more memories this season. Those are the things that will last a lifetime.
About the Author
Renee Bolla is a mom of 3, a brand consultant, and most recently a self-published children's picture book author. She led merchandising and brand teams for 20 years before trading in her fashion career to follow her new dream of becoming an author.
Her debut book, Finding Bunny, was self-published in February 2022, while her second book, Imagine That, launched in September 2022. She has two new picture books in the works that will release in 2023.
You can find Renee at https://www.reneebollaauthor.com/ and on Make Momentos.