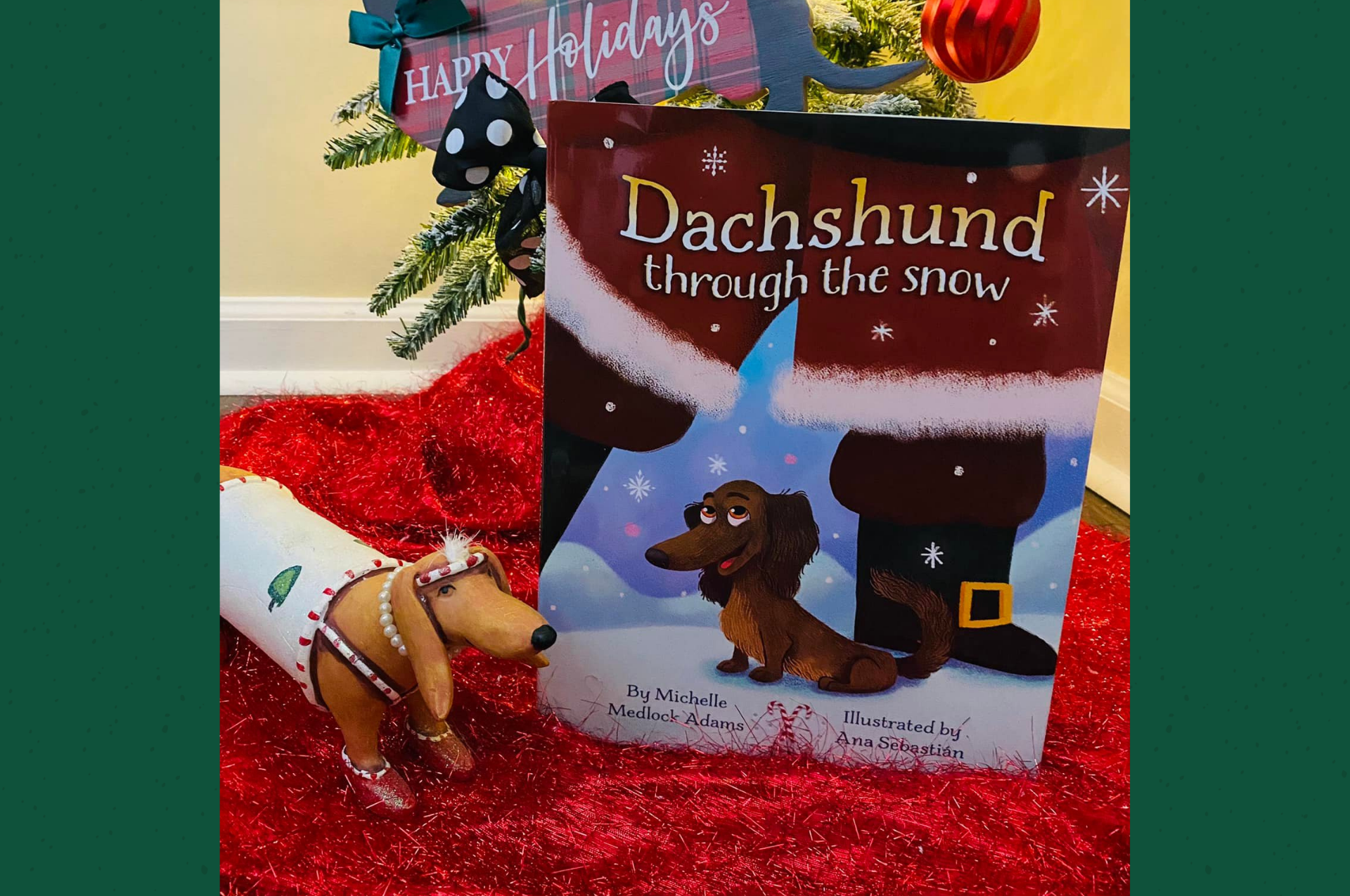 Give the Gift of Reading This Year
Today's blog post is written by Michelle Medlock Adams, author of Dachshund through the Snow.
Children's books make the best gifts.
       Toys can break. Kids quickly outgrow clothes. But books have staying power. Even if their pages rip a little, that just means they are well loved. And children don't outgrow books, rather, they grow with them. Furthermore, books are always the right size; they are always in style; and they are the gift that truly keeps on giving.
       Let me say it again—children's books make the best gifts.
       Don't believe me?
       Ask any parent.
       "Books are treasure around our house," says my youngest daughter Allyson Hovious, who is mom to a toddler and a newborn. "Our 2 1/2-year old loves her books, and we love reading to her. It's something we have done since she was just a few months old. Of course, we know it increases her vocuabulary, but even more than that, reading to her is a special bonding time for us."
       Hovious is right.
       According a 2019 study, children who are regularly read to in the five years leading up to kindergarten are exposed to 1.4 million more words than children who are not read to during those formative years. 
       In addition, Hovious is also correct on the bonding benefit of reading. Experts agree that sharing a good story with your children creates happier and healthier kids. When a parent or a caregiver reads to a child, that child experiences a feeling of closeness, security, and an overall feeling of well-being.
       Reading to your kiddos is beneficial in so many ways, including:
              *Increasing your child's listening skills
              *Promoting healthy brain growth
              *Nurturing creativity
              *Encouraging cognitive thinking
              *Strengthening your relationship with your child
Reading Is Especially Important During the Holidays 
       During the hustle and bustle of the holidays, finding quality time with family is sometimes a challenge, which is why establishing a nightly reading routine with your kiddos is especially important. 
       When my girls were little, they were high energy all day long so adding the excitement of the holidays only increased their "bouncing off the walls" behavior. I had to be intentional about gradually shifting gears and taking down that energy level in preparation for bedtime. Reading a story was an integral part of that equation. Maybe you've also adopted that all-important bedtime reading routine.
       As it turns out, there's science to back up that common bedtime practice. When children experience stress, their brains try to protect them by producing cortisol. If too much cortisol is produced, it can hinder sleep and learning. Experts believe that snuggling close with your children and reading them a story can help to lower cortisol levels and create a calming environment conducive to a good night's sleep.
       In addition, reading to your children in familiar and peaceful surroundings creates a safe place for them to share openly in a way they might not throughout everyday life. For example, if your child is being bullied at school, she might not tell you because she is embarrassed. But during the reading of my book "Dachshund Through the Snow", which shows the main character Crosby enduring bullying because of his tiny stature, your child would be more apt to talk about what Crosby is feeling, which can lead to a genuine discussion about what is happening to her at school.
       Here are five ways to make that reading time more productive and encourage important conversations with your children:
              *Try to keep to a routine, reading at the same time every night.
              *Create a peaceful place for reading, surrounding your child with favorite stuffed animals and the all-important blankie.
              *Choose bedtime books that won't shift the energy back into high gear; rather, select soothing cuddle-up type books
              *If the book lends itself to discussion, ask your child a few questions about the story which might lay the groundwork for a deeper conversation about difficult topics—fear, bullying, self-esteem issues, etc.
              *Offer four or five appropriate bedtime books and let your child choose from those books. To keep bedtime reading fresh, rotate new books into the selection every week.
Participate in a New Reading Tradition This Year
            I'm sure you've sang a rousing rendition of "The Twelve Days of Christmas" before, right? Well, in the spirit of the holiday season, how about changing it up a bit and instituting the twelve books of Christmas in your home this year? Here's how it works. You and your kiddos choose 12 different Christmas picture books to read in the days leading up to the big day! Now, I've even heard of some families taking this idea and beginning the Christmas book reading on December 1, meaning you'd need 24 holiday picture books instead of 12. No matter which option you choose, this nightly Christmas book reading is sure to build the anticipation leading up to Christmas Day.
Might I suggest 12 of my favorite Christmas picture books and Christmas board books? (Disclaimer, a few of them are mine!)
C is for Christmas by me 😊 Michelle Medlock Adams, Illustrated by Louise Hargreaves. This rhyming picture book brings Jesus, Mary, Joseph, and the whole Nativity scene to life in a way that will teach littles about the best part of Christmas—Jesus! It's the perfect combination of holiday family traditions and the nativity story.

M is for Manger by Crystal Bowman and Teri McKinley, Illustrated by Claire Keay. This rhyming storybook will soon be a family favorite that will entrance every reader in your home as it tells the story of Jesus chronologically utilizing the letters of the alphabet.

Dachshund through the Snow by me 😊 Michelle Medlock Adams, Illustrated by Ana Sebastian encourages your teeny-tiniest kiddos to be confident in themselves and realize they can do big things, no matter their size or insecurities. It's a super fun Christmas picture book about how one little dachshund named Crosby saves Christmas.

The Tiny Star by Arthur Ginolfi, Illustrated by Pat Schories. This beautiful picture book follows the story of the smallest star in the sky who longs to twinkle like all of the other bigger stars. One important night, she discovers that even the smallest star can play a big role.

All the Colors of Christmas by Matthew Paul Turner, Illustrated by Gillian Gamble. In this story you can explore the themes of Christmas and winter in lyrical verse. Everything from tree trimming to sledding is brought to life in this story.

That Grand Christmas Day by Jill Roman Lord, Illustrated by Alessia Trunfio builds up the story in rhyming verse to the big moment of Jesus' birth. The repeating text makes it easy for little ones to help "read" the book.

The Silent Noisy Night by Jill Roman Lord, Illustrated by Kelly Breemer. How could the night of Jesus' birth be silent if it was filled with animals and a baby? This book explores that thought through poetic verse.

A Birthday Party for Jesus by Susan Jones, Illustrated by Lee Holland. Learn about all the animals that celebrate Jesus every Christmas just by being with Him. Kids will walk away from this book understanding that the true meaning of Christmas isn't presents or stockings, but the birth of Jesus.

Happy Birthday, Jesus by me 😊 Michelle Medlock Adams, Illustrated by Olga and Aleksey Ivanov. This cheerful board book shows how a family celebrates the birth of Jesus every year—having a party and even baking Jesus a birthday cake!

What is Christmas? by me 😊 Michelle Medlock Adams, Illustrated by Amy Wummer. This board book is perfect for your youngest readers in the family. Fun art and engaging questions will help kids understand what Christmas is really all about.

God Gave Us Christmas by Lisa Tawn Bergren, Illustrated by David Hohn. Follow a polar bear family learning the answers to questions the cubs have about Christmas. Children will learn just how much God loves them.

Christmas Love Letters from God by Glenys Nellist, Illustrated by Rachel Clowes. Explore passages from the Bible that reveal the story of Jesus in this book of both poetry and prose. It includes seven stories—starting with Isaiah's prophecy and ending with the visit of the wisemen. Each story includes a love letter from God.
So, go ahead. Buy books for the littles in your life this Christmas and rest assured your gift of story will educate, entertain, and inspire your children for many years.
About the Author
Michelle Medlock Adams is an award-winning author, earning more than 90 industry accolades, and her 100-plus books have sold almost four million copies. She is celebrating her most recent children's books: Dachshund Through the Snow, I Love You Bigger Than the Sky, and Cuddle-Up Prayers. Michelle has written more than 1,700 articles, helped pen a New York Times bestseller, blogged for Guideposts, taught at hundreds of writers conferences, and hosted TBN's "Joy in Our Town" TV program. Today, she has her own children's book imprint "Wren & Bear Books" as part of End Game Press' publishing house, and she co-owns Platinum Literary, a boutique consulting and marketing firm. Michelle is married to her high school sweetheart, Jeff, and they have two married daughters and five adorable grandchildren. She and Jeff share their Indiana home with a rescue dog, Bella Marie, a spoiled miniature dachshund named Mollie Mae, and two kitties. When not writing or teaching writing, Michelle enjoys bass fishing with her husband, watching Doris Day movies, and all things leopard print. To learn more, go to www.michellemedlockadams.com online.